For its year 3 anniversary, Dead by Daylight will be hosting its biggest livestream on May 31st at 3PM EST
Major reveals, drama, laughs, cries, surprises. It's a date!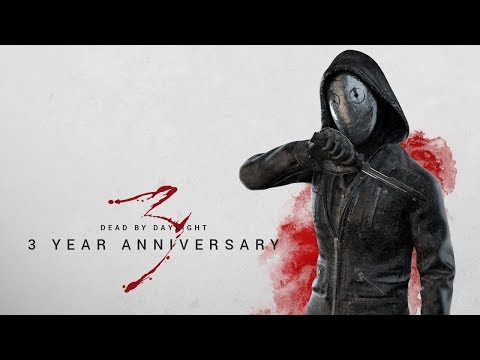 Stream schedule:
https://forum.deadbydaylight.com/en/discussion/64689/
Legion was designed to be fun to play against?
First, this ISN'T going to be a rant on how bad Legion is to play, there have been plenty of those. This is about how un-fun Legion is to play against.
First off, the challenge: for good survivors and SWF groups, there isn't a lot of challenge to him. You can run him for quite a while if you're his only target, and if he breaks off to chase someone else, just mend and go back to work. You don't even need to or want to heal against Legion, there isn't much point: his next Frenzy isn't going to do any more damage than not healing does. And without Frenzy, he's as fun as playing the Huntress with no hatchets. As you pointed out in your stream: No Mither is viable against Legion! It should say a lot that going into a match damaged and unable to heal is viable against a killer. So, there's that: he isn't much of a challenge, and that isn't fun. This is a horror game! We're supposed to be afraid of the killers!
Second off, the perk builds: Legion isn't viable with exposure perks because exposure won't proc off his Frenzy attack. NOED, Make Your Choice, Devour Hope... those aren't things we particularly need to worry about (or be afraid of). No, the best Legion perks are the ones that draw out the game as long as possible, and give Legion as much time as possible to actually down people: Ruin and Thanataphobia, and maybe Overcharge or PGtW. Or, because he does hit, but not easily down, survivors well, Knock Out or Third Seal: why put them on the hook if you can hide them on the ground until you manage to put them all there? Because, we all know how much fun slugging games are for survivors. Neither super long games, nor crawling around on my belly sound particularly "fun."
I'm sorry, I don't wish to sound rude, but I was rather taken aback by the comments made in the last Q&A, and in ones prior, that killers are designed to be fun to play and play against, not necessarily be "competitive." To counter this argument, I would point to your own description on Twitter: "Dead by Daylight is an asymmetrical multiplayer horror game..."
Asymmetrical, as far as I've always known the word, means the killer should be stronger than the survivors. That in an asymmetrical game, the survivors need to work cooperatively together against the killer in order to win, that's why they outnumber him. If the killer isn't strong enough to effectively put a No Mither player on the ground... the asymmetry is going the wrong direction.
But let's revisit the "not competitive" concept: each match is competitive! Survivors try to survive, killers try to kill. They are opposite objectives, it is a competition. Unless "fun," and "horror" are intended to mean the killer dances around the map while the survivors farm points, but that isn't fun for me as a killer or a survivor, and it's not why I play the game. And if a DLC to a horror game comes out which does not provide some fear of the killer, what reason would I have to purchase it?
Let's take an extreme: you enter a match and see the killer perpetually running into the map wall. That's it. You do your 5 gens and you leave. Does that sound like fun? There are plenty of web-based games I can play for free that only require me pressing M1 and the space bar. Granted, Legion isn't as bad as just running into a wall, but he isn't as far off as I would like to admit.
On the other hand, when you enter a match and you hear a chainsaw in the distance, or the Nurse's scream... then you start looking around for where it's coming from, you start getting excited, there's a sense of danger. Then you're playing a horror game, which you picked up because a horror game sounds like it would be a whole lot more fun than Secret Agent Barbie (an actual title).
That isn't to say that every killer should be Nurse level, or Hillbilly, but viable. You guys said you weren't necessarily always concerned about top tier competition, and you shouldn't be, but a new player picking up Nurse isn't going to fair well against a group of survivors either. She's going to be blinking all over the place without the control to land hits. Hand a brand new player the Hillbilly against a group of survivors, and he's going to be veering off into walls instead of actually downing survivors.
You give the players the tools, and it's the player's skill, cunning, wits and knowledge that determine the outcome of the match. Killers can certainly be overpowered, but that's no where near where Legion is. When the average killer becomes "too competitive" they rank up and face stiffer competition. When you release a killer who isn't competitive at any level, he may be picked up out of curiosity, and then soon abandoned. Why waste your time designing a killer no one wants to play more than a few rounds? Why would I keep playing a killer who can stab a lot, but in the end, I get few points and no advancement? It's especially frustrating for survivors who don't get to choose which killer they go up against. Survivors don't get to choose if they want a challenge in facing a good killer or a terrible one, which is why there's a middle ground called viability. If I get into a game with a Legion, I know it's going to be a long waste of my time, and that's it. Because it's a waste of time to heal, and there are unlikely to be too many hooks to pull people off of, I can't even look forward to altruism points.
Lastly, I would like to address the "we take player comments about new killers with a large grain of salt," comment from your last stream. That's awesome! So, why have a PTB? Our concerns/comments/suggestions aren't worth much, so why bother? Just release what you'll release and if it sucks, we'll go find other games. I own a marketing and sales contract company, and if I were ever to tell one of my clients - or their clients - that I take their input with "a large grain of salt," they would promptly cancel their contracts with me, and I wouldn't blame them in the least. There's a lot of money riding on my work, just as I'm sure there is on yours; so why alienate and insult your clients?
If the demo you put on is any judge, a huge portion of the player base has played this game a whole lot more than the people working there. They understand how your changes actually effect the game, not on paper, but in practice. So, why tell them their opinions aren't worth consideration?
But then again, I guess this is just another one of those unimportant feedback comments, destined for the dust bin.