Dead by Daylight has turned 3 years old! We are proud of what we've accomplished and so excited about what's to come. So why not start the celebrations with a Bloodhunt (2x) Event from June 14th to June 18th? Enjoy!
Remothered: Chapter Idea
Salty_Pearl
Member
Posts: 712
Hey everyone, a while ago I made a post about what perks The Red Nun would get if she was in DBD. Today I've decided to make a post about an entire chapter based on the Remothered series. SPOILERS FOR REMOTHERED: TORMENTED FATHERS
Chapter XI: Remothered: Tormented Fathers Chapter
New Killer: The Red Nun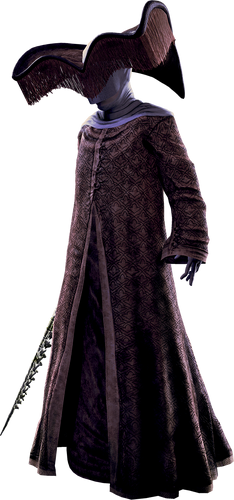 Info:
Name: Gloria Ashmann
Ethnicity: Italian
Terror Radius: 28 Meters
Speed: 110%
Alt. Speed: 90% (While casting Phenoxyl's Gift)
Power: Phenoxyl's Gift
A gift thought to be from God itself, allowing The Nun to cast out moths to hunt Survivors.
•Tap the Power button to send out moths in a straight line. (Range is 24 meters)
If caught by the moths Survivors will,
• Have their vision impaired (moths will cover the screen)
• Be unable to move until the moths fly away or been shooed off.
• Be unable to use items or perform actions.
• Survivors will be able to shoo the moths away by rapidly tapping M1 and M2. (takes 5 seconds to fill the bar.)
Once The Red Nun steps into the disengage range (12 meters) the moths will immediately fly away.
Perks:
Telekinesis
• Phenoxyl has given you immense control over electrical objects.
Generators within a 24 meter range receive a 20/30/40% repair penalty.
Religiophobia
• Your presence instills great fear.
• Survivors that you are in a chase with suffer from the Exhaustion status effect for 20/40/60 seconds once the chase starts. (Note that the Exhaustion timer will still decrease while the survivor is running.)
• Religiophobia has a cooldown of 80 seconds. (cooldown starts when the Exhaustion effect is removed.)
"Kneel down to God, to our God!"- The Red Nun
Unholy Power
• As Survivors are on the verge of escaping, your unholy power grows.
• When the Exit Gates are powered, your terror radius is reduced by 6/8/10 meters and Survivors who have completed the last generator suffer the Exposed status effect.
"I am the ambassador of the new Lord! L'ambasciatrice della novella del Signore!"- The Red Nun
New Survivor: Rosemary Reed


(NOTE: Rosemary's playstyle will be based on her personality. Her playstyle will basically revolve around herself, hurting other survivors while giving her benefits.)
Perks:
Ineptitude
You blame other Survivors' lack of skill for the problems you face.
• When another Survivor fails a skillcheck in a 10/14/18 meter radius, they suffer from a -10% action speed penalty and you gain a token up to a maximum of 1/2/3
• For every token you have, you gain an 5% action speed increase
"I believe in people's willpower, everything else is not God, but ineptitude or mankind's cruelty."-Rosemary Reed
Sacrifices Must Be Made
You believe that sacrifices are necessary in order for success.
• When a Survivor is hooked, you see the auras of The Killer, Generators, Totems, and Chests in a 20/24/28 meter radius for 5 seconds.
Selfish Ways
• When the Exit Gates are powered you receive a 1%/2%/3% speed boost for every survivor that has been sacrificed.
• All other Survivors left alive will receive a 2% speed reduction.
(Sorry if Rosemary's perks are too toxic/selfish I wanted her perks to make you have a different playstyle while using them.)
If you've read this far thank you so much! Please let me know your thoughts down below!
Post edited by Salty_Pearl on