Dead by Daylight has turned 3 years old! We are proud of what we've accomplished and so excited about what's to come. So why not start the celebrations with a Bloodhunt (2x) Event from June 14th to June 18th? Enjoy!
Killer Concept - The Beast
The_Arsenal
Member
Posts: 1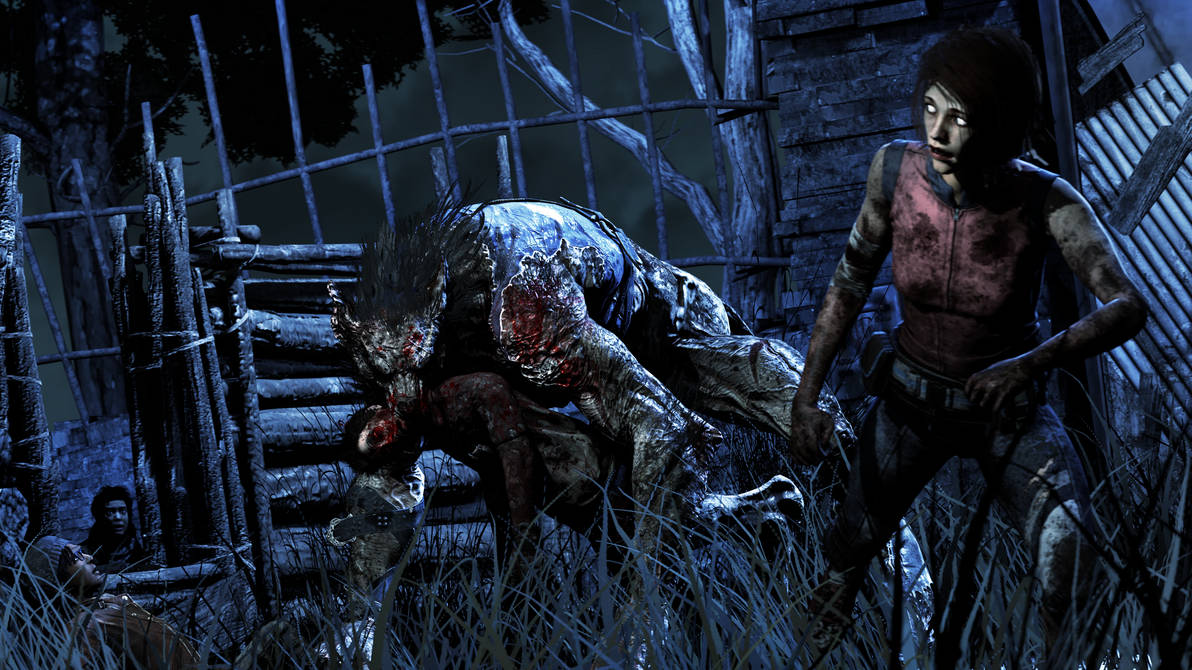 Killer's Lore (The Beast):
Alexander was born in the small town of Salem. His parents were separated from him at an early age mysteriously disappearing days later, unknown to him about their fate. Living under his adopted family, Alexander was working in the fields for years, teaching himself how to hunt with simple arrows. One day, Alexander was sent into the woods by his father to hunt Deer but had to luck for hours upon hours. In the middle of the night, he was cornered by wolves with no arrows left. With only a survival knife left, he emerged unscatched from the confrontation. He starred at the wounded wolf in the grass, and couldn't take it upon himself to use it for coverage on collecting no Deer. Upon returning home, Alexander's 'father' was more concerned with the deer meat he was supposed to return with, punishing him for creating little results. Frustrated by this turn of events, Alexander trained himself out of his father's notice as he planned to run away into the woods. Finally, after years of disappointing his father for years, Alexander grabbed his belongings and went into the woods at the dead of night. As he wandered, he was hunted by another wolf pack...or was it another one? They welcomed him as one of their own, remembering his scent to the wild, and accepted into their pack. He started to hunt along with these wolves, acquiring a taste for the meat he caught. Groups constantly searched for Alexander after his disappearance, but had no luck and assumed his was dead or kidnapped.
Years later, a group of poachers arrived to hunt in the woods to acquire pelts. Little did they know that the new pack leader of the wolves would not give them an easy hunt, for their unwelcome scent was picked up at their first step into his territory. The group was never found, and they never returned home. In the woods, the pack leader felt another intruder. A presence spoke to him about a greater hunt for his pack, a new taste of meat to acquire. With a new image created by this otherworldly presence, the pack leader could catch the scent of intruders. Let the Hunt Begin.
Killer Ability (Scent of the Wild):
The Beast can switch from Hunt Mode and Slaughter Mode for a couple seconds. When in Hunt Mode, The Beast goes on all four feet and can smell survivors that are unwelcome to your territory. When looking in the direction of survivors within (some meters), The Beast's nose sniffs often. Movement is increased when moving in their general direction (Similar to Whispers for Veterans), when the survivor is bleeding the movement is tripled and The Beast can see a red cloud that tracks where the survivor has been recently. This is differentiated as Fresh Blood Marks (Hit recently by Killer) and Dried Blood Marks (From Hook rescue) where the speed is not increased.
Killer Perks:
Unquenchable Thirst - When hitting a Survivor, you keep a stack of Bloodlust for an extra few seconds (2-3?) during a chase. "The better to eat you with." - The Wolf (Little Red Riding Hood)
Unwelcome Guests - Survivors that sabotage a hook are put into the Broken state and have their aura shown to you for (seconds). "Careless shepherd make excellent dinner for wolf." - Earl Derr Biggers
Right At Home - When standing on the Hill or a tall part of the map, Survivors outside of your terror radius are revealed to you. Once you leave this area, the auras persist for (seconds). "Throw me to the wolves & I'll return leading the pack" - Unknown
Hope you guys like it!
Posed in SFM, Edited in Photoshop
No copyright infringement intended
Source Filmmaker Models in use:
Dead by Daylight Props and Models - (c)Behaviour Digital Inc., Noisy, MARK2580 (Steam Workshop)
Witcher 3 Werewolf - (c)CD Projekt RED, MoogleOutFitters, Neverstops577 (Steam Workshop)
Post edited by The_Arsenal on