Home
›
Dead by Daylight Forums
›
Discussions
›
General Discussions
So you want to TRULY SOLVE Camping? Slaying DBD's oldest Monsters.

AlwaysInAGoodShape
Member
Posts: 1,300
It is possible
This is going to be a weird thread. I will suggest something and you will likely find it ridiculous. After some explanation you start understanding how it truly solves camping, but you still find it ridiculous, but this time you may start to like it.
Mathematics
Sometimes a solution is just perfect. Take the parabola;
Do you want to know what the highest point of the parabola is?; there is only 1 perfect answer. In this case it's 5.
Well... that was easy! Now all we have to do is discuss if we actually wanted the highest number! Could it be true that we'd be able to do the same thing with camping? Let's give it a try;
The core variables of camping
Something about the hooking mechanic must be causing the camping... but what? These are the variables related to camping:
-Hooking Phases
-Phase time
-Guaranteed survivor location information
Hooking Phases
Now, Hooking Phases is more something that has to do with tunneling. After all, we know why people tunnel; It's because the first and 2nd hook achieve nothing. Trying to get a 3rd hook as fast as possible is one of the main ways of damaging and often nullifying a team's efficiency.
We already know how to solve that one;
But since removing this to 1 hooking phase clearly doesn't resolve camping, it's not what we are looking for.
Phase time
Phase time simply is the 60 seconds that it takes from a phase to progress to the next phase. It is this single factor that is completely responsible for all the frustration that people have experienced as a result for camping. Decreasing the timer (120 normally) to 30, then camping is close to being AT ITS WORST. Increasing the timer, makes camping less of a problem; a 300 timer would effectively kill off camping even in the lower ranks, and an non existent timer would nullify all frustration with "unfair" camping.
The guilty variable!
So.. So.. wait.. hole-upaminite...
So what will happen if we remove this...
Well... then people can hang infinitely on hooks!
but... hole-upaminite...
How will they enter a second hooking phase?
They don't! They have to be unhooked and hooked again to enter the next hooking phase!
but... hole-upaminite...
Why would I ever unhook a teammate then, if unhooking them is the only way they can die on a hook?
We simply make it so that if all living survivors are hooked at the same time, they get sacrificed and go through the animation! This is the key to making it all work.
but... but... hole-upaminite...
Surely this will not work as intended somehow?
Here is an analysis:
1 Someone gets downed and hooked. Your team is now down 1 member in efficiency, but you can choose to save that teammate however you want.
2 The killer cannot stay at the hook, or else everyone will just finish the generators before attempting a save.
3 The killer can no longer play defensive. That is a positive and didn't fit the role of killer anyhow! But in this case, it's only due to them not being able to utilise their strength they previously had, which we will need to factor in at a later point.
4 So the killer, after hooking, will have to look for other survivors. If he downs the next, he'll have 2 people hooked.
5 Survivors are still motivated to rescue their team as fast as possible, because having 1 survivor continuously rescue one of the three hooked people in a cycle gets less generator progression done while the hooking stages progress, than having 1 survivor hooked; You want to have as minimal of an amount of players hooked as a survivor and unhook as quick as you can, but no longer are you forced to do this if the killer is nearby.
but... hole-upaminite...
So there are a few things that also need to be addressed as a result of this, right?
Now we know that all irritation regarding camping; unsafe unhooks, game-throwing rescues are all the result of this one single variable, we'll cover the consequences and appropriate response to eliminating such a variable;
What needs to be done in response to solving camping.
There are a couple of issues that need addressing; (every individual issue is addressed under the orange headlines)
-Compensation for the otherwise killer-nerf
-Slugging
-Adjustment in perks and mechanics
-Open Gate Camping
Compensation for the otherwise killer-nerf
Slugging
Slugging as an un fun experience for plenty survivors was a beacon of hope to killers that found it unfair that even if they downed a survivor, they'd have to sometimes walk about 10 second with them on their shoulder, resulting in nearly half a free generator for the opposing team... and to do this 12 times?!
After all, slugging was the only way you'd be able to take a 4 generator long poo and still have a chance at getting 4 kills;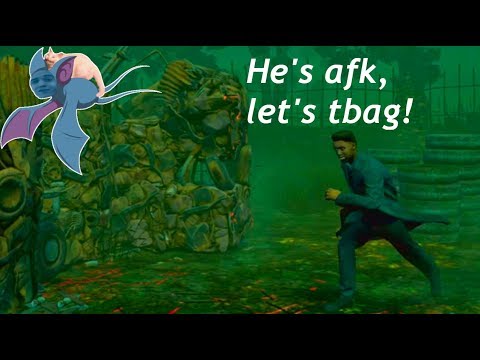 With us assuming killers to be significantly weaker as a result, we cannot have a system in place that circumvents our assumed weaker killer.
With the philosophy in mind that survivors should be more self-sufficient as in; "Nobody likes to lose before they are dead", we too grant the ability to recover from the dying state, and lower the bleed-out timer significantly based on how many survivors are alive. (More survivors alive = lower bleed-out rate).
This demands us to also address the sabotaging issue, but to not cover too much here, such a thing will be covered in a separate post.
All and all you need to know that if we solve camping and tunneling, we first have to eliminate or weaken slugging.
Adjustment in perks and mechanics
Although it isn't too hard, there would need to be simple adjustments to:
-Emblems related to hooking.
-Perks, like Deliverance, Slippery Meat, Monstrous Shrine.
-Due to slugging adjustments: Perks, like Unbreakable.
-The luck mechanic
-Pressing the button repeatedly in the 2nd hooking phase.
The exact way that would be most enjoyable/preferable is uncertain and not absolute, so those will be left out of this post.
Open Gate Camping.
There is only 1 time where you'd consider camping and that is when the gates are open. When all other survivors leave, the hooked person will be sacrificed.
If they decide to stay, then they can keep attempting the save until 1 person dies in general. This is slightly unfair towards the killer. Giving the killer more control in the end-game by eliminating safe-zones may just be enough to allow the killer to hold a position of strength when the survivors are too obvious with their strategies;
https://forum.deadbydaylight.com/en/discussion/39771/bloodwarden-for-free-on-every-killer/p1
End Note
What I find remarkable is that by eliminating exactly the variable that turns camping into an issue, we are sort of compelled to address other issues that exist in the game, such as;
-The Death-Efficiency issue (+ The Self-Sufficiency Issue)
-The Exit Gate Safe-Zone issue
-The button press in 2nd hooking phase issue, which has been brought up multiple times and gained awareness of the Devs.
-The slugging issue;
-The "fun-play-style-for-the-killer" issue.
and all that can come from simply eliminating 1 variable? That surely is impressive (:
I invite you to play around with this idea;
What will happen when you eliminate this single variable of hooking-bar progression. Keep playing it back and forward. Imagine how you'd unhook, imagine how you'd behave as the killer.
The longer you play around with this, the sooner you realise that the initial premise is true; the one and only variable that caused 100+ threads full of complaints regarding camping is all caused by 1 variable.
This does sound like a ridiculous suggestion, and it even still does to me. There'll be a lot of times where you'll have to hole-upaminite, but the longer you think about it, the less sane it will start to sound.
Thank you for reading!
Post edited by AlwaysInAGoodShape on