Home
›
Discussions
›
General Discussions
We're currently investigating issues with frame rate on PS4 after the most recent update. Thank you to everyone for bringing this to our attention, and for your patience while we look into this
Killer Tier List

Shroompy
Member
Posts: 247
Introduction
This is my Killer Tier List! Of course this is heavily opinionated, how ever I'm almost positive some people could agree with me. Others will disagree and that's perfectly fine! This will be for patch 2.4.0. We'll start high tier and go into low tier.
NOTE: I have reached Rank 1 Killer and have a little over 1400 hours in the game, also 20 fps warrior
Number 1: The Nurse
This shouldn't really be a surprise to most players who've reached high ranks or have a basic understanding of the game. Nurse has basically everything going for her. Her blinks give her map pressure and she's great at chases. This how ever takes skill. A godlike Nurse is practically impossible to escape from. Even 4 man Survive with Friends struggle dealing with a her at high rank. The only thing Nurse lacks in is tracking. She has absolutely NO tracking. Stealth is a decent counter to The Nurse. Perks like Iron Will and Urban Evasion can be annoying to face against. How ever once she finds some one.. Expect a down in a few seconds. Learning The Nurse can be tricky, I'm not that great with her because I uh..** run the game at 20 fps..**
How ever learning survivor movement and blink distance seems to be the key to mastering her.
Number 2: The Hillbilly
The Hillbilly is also another great top tier killer! He has great mobility with his chainsaw. Can insta-down survivors with add-ons. He can end chases in seconds (how ever he can still do it without add ons). There's not much to say about Hillbilly, the 1 thing he has to deal with like every other killer (besides a few) are loops. Survivors can loop a Hillbilly pretty easily if they know what they're doing. How ever that doesn't stop Hillbilly from being viable in red ranks. Learning Hillbilly isn't that difficult either. Learning this killer as 1 of your first is not a bad idea!
Number 3: The Spirit
The Spirit had a rough start. But she buffed and she's now pretty DARN good. I do find that she can be a little bit add-on dependent. How ever she's still amazing without them. Her power: Yamaoka's Haunting. Allow's her to Phase Walk. While doing this she's faster and is invisible, how ever she leaves behind a husk. Because of this she's the best killer for mind games. She also has a passive phasing. Where she clips in and back in reality. (Idk how to explain it"shrug")How ever when she does this her red glow also disappears, take advantage of that. To be a good Spirit, All you have to learn is survivors movement. And know when its a good time to phase. You should be phase walking a lot as Spirit is a 110% movement speed killer, so running up to a survivor to catch them will take quite a while. Especially if the survivors know how to loop well.
Also don't be scared to try out a new build with Spirit, she pretty much works well with every perk!
Number 4: The Huntress
The Huntress is without a doubt. The best killer for ending chases in no time. A good Huntress can be just as scary as a good Nurse. Huntress is all about timing. If survivors are smart they'll drop pallets early to avoid getting hit by a hatchet. There's not much you can do about this sadly besides brute force loops. Jungle Jim's are not ideal for her. She also has the strongest add-on in the game. Iridescent Head She can only carry 1 at a time (Max of 3 if using Infantry Belt) but she can insta-down survivors with a single hatchet.
Don't forget, Huntress has 110% movement speed. Larger maps are a nightmare for her. Because of her speed and her humming radius is massive. 45m, and its directional. Stealth is also a great way to counter Huntress as Survivor.
Also you pretty much have to forget all insta-down perks when playing Huntress. As they do not affect her hatchets.
Number 5: The Hag
Now this is probably where people will disagree with me. But hear me out. The Hag is like the Nurse. But she can be every where at any time. Keep placing traps and it becomes a mind field. Survivors will be scared to walk anywhere they go. Hag is NOT good in the chase. You do not want to chase a survivor. You want them to trigger your traps. You wont get to far by chasing a survivor with 110% movement speed.
Another good thing about Hag is pretty much every perk you run with work with her. Hag and Spirit are similar when it comes to perks.
Number 6: The Clown
As The Clown, loops really aren't a problem. His bottles do wonders for him in a chase. Also don't expect Survivors to get away easily. If you want a survivor to be downed. He WILL be downed. Clown how ever lacks in tracking. He has 115% movement speed which is nice, how ever he has no way to find survivors besides chuck a random bottle at a generator. Which isn't a very effective strategy.
Number 7: The Shape
Our boy Micheal.. scary feker builds up his power. He's great at sneaking up on survivors. But its in Tier 3 where he really shines. His lunge is longer then normal, he has a slightly faster vault speed and he can insta-down survivors. This puts fear into survivors. If they hear your terror radius, usually they stop what ever they're doing and "Initiate Immersed Claudette Mode". So he can stall the game a little. Altruistic Survivors is like Christmas for Micheal. The downsides about Micheal is he will eat pallets.. and a lot of them. Same for windows.
Number 8: The Cannibal
Ah Bubba.. He's a tricky one. Some people say he's absolute garbage, others say he's not half bad. And in my opinion he's not half bad. He's simply Hillbilly without the mobility and an easier chainsaw to use. With his chainsaw he also has the strongest basement game. The 1 thing that doesn't make him strong is the fact that he's slower then a survivor when charging up his chainsaw. He has no form of tracking.
As said before: He's just as good as Hillbilly in the chase. Not so much for anything else, which is why is so low on the tier list.
Number 9: The Legion
This might come to a shock for some of you but put down the pitchforks and let me explain. Legion is not half bad in pretty much everything. He has good tracking with "Killer Instinct", can stall the game a little by forcing survivors to mend, doesn't have bad (it ain't good either) mobility, and is decent in the chase. The only problem is how long he takes to chase a survivor. Either you hit them 4 times in Frenzy, or you hit them once, or twice. Then run up to them with a normal lunge, problem is... Legion is a 110% movement speed killer. And usually killers with this movement speed have a power that would make up for their movement speed. But sadly, Legion doesn't. The only time you'll dominate as Legion. Is when you use an add-on called Frank's Mixtape. Instead of 4 hits, its 3. This turns Legion from a pretty low killer to a damn scary one in a chase. There's no avoiding him.
Number 10: The Doctor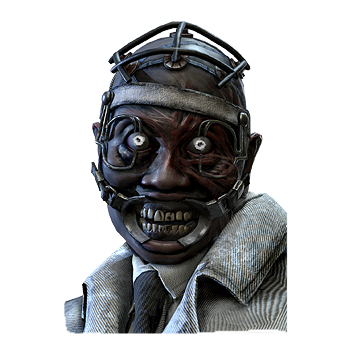 The Doctor has 1 thing going for him. There is no survivor hiding from him. He can find a survivor is no time, how ever that's how he really has, tracking. His chase game isn't really that great. He's just a mouse 1 killer with nothing to assist him besides his shock, which would be great if it didn't slow him down as much as it does now.
Number 11: The Wraith
For a low-mid tier killer, Wraith isn't actually that bad. With add-ons he becomes very strong. Pair up a Windstorm and a Swift Hunt and he becomes much better then base kit. He has great mobility with Windstorm, and decent chase potential (if used correctly) with the small speed boost you get after you uncloak. That's what most Wraith players don't take advantage of. If you lunge right as you uncloak you get a HUGE lunge. Because the speed of the lunge and of you uncloaking combine and you go fast... very fast. But he's basically just a worst version of any other good killer with mobility so, there's no point.
Number 12: The Trapper
Now, we start off with the top 3 worst killers, and our first is Trapper! He can set traps. Thats it, and his traps can be disarmed and sabotaged(why). 1, his power is fairly hard to be effective. God tier Trapper's will try to move in a way that baits a survivor into a trap. How ever that can be very difficult on larger maps. He stands no chance against a 4 man SWF unless they're acting like headless chickens. Also once you catch a Survivor in a trap, its all RNG. Some times he'll escape from the trap 1 in attempt, some times he'll escape in 47 attempts. Its all luck and for a killer to have RNG as a big part of their power, really isnt ideal
Number 13: The Pig
There's not much to say for this killer, other then she SUCKS. She has no mobility. She has "ok" tracking simply because of her crouch. Her ambush is practically useless at high ranks, as she pretty screams: OI IM OVER HERE, BETTER WATCH OUT OR ILL STEB YE.
Her bear traps are also pretty useless. As they rely heavily on RNG. Its possible for all survivors to get their traps off the first jigsaw box they search. And then you become a killer with no power (other then shouting). Pig has 1 thing going for her and that is she can stall the game pretty damn well. But that's not good enough for all the other cons she has.
Number 14: The Nightmare
Is this really a surprise? Shouldn't be. Freddy is god awful. His power doesn't help him in ANY way to catch survivors. He takes 7 seconds at base to even poke a survivor with his pointy fingers. All Freddy is, is any 115% movement speed killer, but they don't use their power. And they need to wait 7 seconds for them to do anything. He's supposed to be an end game killer, but he's really not.. If you down a survivor others can just rush in, heal them off the ground and then they all run out the gate.
devs, pls buf hem
Thats all folks!
And thats my tier list. What are your guys' opinions? Id love to hear them. There's a lot of mixed opinions about who's high tier and who's low tier. Which its okay to have your own opinion! Enjoy killing in the fog fellow killers <3