For its year 3 anniversary, Dead by Daylight will be hosting its biggest livestream on May 31st at 3PM EST
Major reveals, drama, laughs, cries, surprises. It's a date!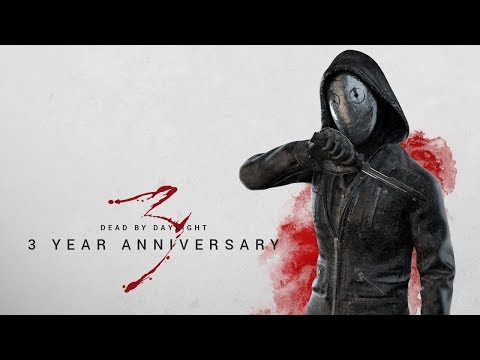 Stream schedule:
https://forum.deadbydaylight.com/en/discussion/64689/
TreemanXD
I started playing dead by daylight during howling grounds after getting bored of F13, my goal was to get good, I'm not entirely sure if I've achieved this but I keep playing. My favorite role is survivor, I like the idea of hiding/escaping from the murderer currently trying to kill me. I'm a 50/50 player (Claudette/Nurse) I'm a very rare specimen considering the almost unicorn-like rareness of a console nurse main. My build as survivor currently is:Empathy,Calm Spirit,Balanced Landing and Adrenaline. I don't have every perk on nurse yet but once I do my build will be:BBQ,Sloppy Butcher,Make Your Choice and Surveillance.
About
Username

TreemanXD

Joined

Visits

1,024

Last Active

Roles

Member

Points

5,060

Badges

19

Posts

4,452
Activity
Kiskashi

YOU NOTICED THIS TOO. I've been trying to search old threads and nothing exists apparently *flips off the oblivion of the search bar* Sorry to creep on your wall, no one else has mentioned this at all..

Kiskashi

Cool, thanks for letting me know it's fixed wall creeper brethren, I only tried yesterday that was fast :') (I like to see if people have creative "bios/statuses" some of them are great. Thinking of changing mine up/putting a pic but who's actually going to visit my wall haha)

Kiskashi

Good to know haha (and true), thinking of posting some dumb sketches eventually but will probably save that as an off topic/fan creations post, got a special one planned for my wall though

Look at my bad photoshop of Spirit lol. She looks pretty decent, but bad.

Here's the before.




Poweas

I made her hair blond for fun. I should have made her green tbh, I'll try it again tomorrow. Goodnight!

Oh ok, I would join, but I find Nurse a bit dull. I might join the Spirit gang soon tho.

Poweas

I've got to THAT level with them, which basically means I've mastered them. I need the lower sounds fixed and Hags no sound when trapping bug fixed, and I'll dominate.

But thanks, I might relearn Billy now, since Spirit and Hag have no more for me to learn tbh. And I'm trash as Billy now.

Poweas

Chainsawing at loops is also what my main focus will be this time around, before I just used Bamboozle, Enduring and Spirit fury to shut down every loop, but now I want to learn anti loop with a saw myself.

My new build will probably be A Nurses Calling, Knock out, BBQ and Chilli and something, maybe Enduring?

When I do, sure. I like Apex a lot, it's fun. Although, being completely honest I just use that portal guy, and run in circles in the safe zone. My brother rage quit because of it XD.

Poweas

Just saying, if I run in circles, don't be mad, I just have too much fun :P. Goodnight, ima sleep. Long live @Master!

Nice! I've been posting a lot less recently :P. I play less DBD in general. Well done! Next is Orion I think.

Poweas

I play an abhorrent amount of phone games. Clash royale (returned), Clash of Clans (returned to my 6 year old account), a game called DragonCity, I just play them all the time. XD

Poweas

Idk, I tend to bash them a lot. I still play DBD, I'm almost a good Spirit it's shocking how fast I've improved. But I play phone games a lot too.

Legion are pretty decent now. Like pretty good in terms of fun. I might buy them, they look fun.

Susie and Frank are the best of the legion.

He just isnt what he was before, still, he is pretty fun to play

I completely understand why they needed to rework them, and i am glad to an extent they did

the only thing that annoys me is you can no longer fail your hits and the goddamned vaulting and frenzy speed, he just feels too slow