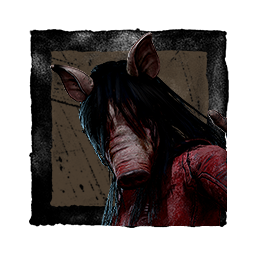 We are aware and looking into the issue which caused players to have their rank reset further than intended. If your rank was not reset at all this month, this is a visual bug and closing and re-opening the game should fix it.
AlphaJackson
Me: Plays fair without camping or tunneling unless the situation calls for it, while always leaving a gg. Also me: Basement insidious camps with LF just to get rage mail.
About
Username

AlphaJackson

Joined

Visits

1,123

Last Active

Roles

Member

Points

598

Posts

588

Badges

15
Reactions
Comments
I get alot of reports for basement camping with Bubba, because nothing made me happier than getting salt from people who cant move on to the next one.

I've stopped playing since briefly before the release of Oni, namely because the game just got stale for me. I haven't been too thrilled with most new killers and obv survivors are just skins they never add any new mechanics outside of perks that yo…

The fun of spirit is having a challenge. I really dont understand how you can have fun by purely steam rolling over people or what not. That's why I dontemjoy fighting most Wraiths or Clown; they just dont have great or intresting abilitys that actu…

Mori's make ppl like OP salty, so no I dont think Mori's should be changed.

but in that case you have to go under the assumption they have spine chill, and also in going diagonally you risk not seeing survivors leaving the gen. so yes there is a counter, but it does have a bit of a cost.

*takes out torch and pitchfork*

plz dont judge but... for sure the sound made by Piggy when a pallet is dropped on her.

Sure, tone down her add-ons a bit, or add some cooler effects. But do not for the love of god change her base kit, she is actually an easy killer to bully and hard to play. If only the survivors who played against her played with her too. She requir…

I've been reported countless times for camping and tunneling, cuz you know, their enjoyment is more important than my own obv. But easily the most idiotic piece of salt I got was when somebody reported me for using my fav build SlugMaster Piggy beca…

I'm not the best for consistent posts, but hey I'll plug myself if I can, for the most part I rarely use items or add-ons in game, and a thinking of posting more videos. My YT is the same as on here just with a space. But ye, I dont realy like using…

If I chill out with friends we go SWF and pick a default dwight then miss every skill check then fast vault into lockers and generally play like trash. If I'm a killer, then I insidious face camp with LF and reap the rewards of salt.

The game stores info on your PSN account, not on the hard drive, I know this from logging in on my friends PS4 and keeping all my stuff. So no need to worry about lost progress.

As an Irish man myself, I can safely say that mashed roosters are the best spuds, followed by roasters and finally boiled baby potatoes.

https://forum.deadbydaylight.com/en/discussion/comment/768735#Comment_768735 I have been tunneled, and as far as I'm concerned it nets my team the win. I get chased into oblivion and in exchange my freinds get to escape, plus it makes for some good …

Surivors: *complain about doing gens* also Survivors: *complain about getting tunneled*

And what game is there to rival DBD? As far as they're concernced there's nobody to compete against, so they can charge what they want. Furthermore, as far as I can tell the BP will pay for itself if you put the time in. Atop that with the normal DL…

I'd rather, either Alien, Predator or Sammael.

Calm Spirit, Stridor and Surveillence should atleast be in Very Nice. Why? well starting with Calm Spirit it completely negates Spies and also prevents you screaming against Infectious Fright, Clown, Freddy and Doctor, along with stopping attentive…

I am fully on board with making Rule Set No.2 either lower rarity or base kit, same with Last Will, however, I'm not so sure about about any other changes to her the directly relate to stats or extra effects.

I was gonna pop in as a resident Pig main, but looks like @TAG got here before me :P But yah, Piggy is insanely fun if not frustrating at times, but that applies to all killers, she has one of the best snowballs and slug games of all killers, along…

@Mochan I was torn between being a survivor and killer main, but at this point I'm 50/50, And from both sides of the spectrum I think camping is fine and infact neccesary. There are many situtations and playstyles involving camping where it is eith…

Surge and Huntress Lullaby has to be one of the greatest perk combos I've had, it's effectivly a Pop for the price of playing the game and makes three gens so much easier. Because iirc, both perks stack ontop of the standard 5% regression and give y…

https://forum.deadbydaylight.com/en/discussion/comment/708176#Comment_708176 Yah, ik, I just changed my post.

https://forum.deadbydaylight.com/en/discussion/comment/708168#Comment_708168 huh, I thought it was green. I'm doing this off the top of my head, right let me retry that uhh... ahh yes, I know, edit post ahoy!

Imagine punishing killers for playing the game, Survivors already have two options to verse camping, either take it and wait, get your struggle points, or move on and [BAD WORD] on the hook. Sound easy? Scrath thta three, you can also play SWF and …

Killer: Deer Stalker, Knock Out, I'm All Ears and Sloppy Survivor: Iron Will, Balanced Landing, Diversion and Solidarity. edit: change Resilience to Botany Knowledge. edit2: chnaged Botany Knowledge to Solidarity cuz BK is still purple.

https://forum.deadbydaylight.com/en/discussion/comment/708147#Comment_708147 Curently my favorite build in the entire game revolves around Knock Out, followed by Ruin, Thana and Surveillence with the Face Mask Add-On. An amazing slug build that is r…

Knock Out on Piggy, just cant get the same map pressure without it.